I am the fourth stop on your lovely tour today and am very excited to share with you my goodies today!

The second is a FREEBIE! This is a set of Genre Posters (mostly geared toward intermediate) with a Polka Dot theme. The set includes: Mystery, Biography, Fantasy, Realistic Fiction, Fairy Tales & Folklore, Nonfiction, Poetry, and many more! There are 11 different posters total. Click on the image below and it will take you to my Facebook page, once there click on the Blog Hop Tab and collect your freebie! Remember, this will only work if you "Like" my Facebook page :o)

Thanks for stopping by! You're next stop is one of my favorite gal pals, Leigh from the Applicious Teacher!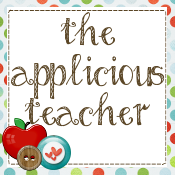 If you'd like to start from the beginning, you can head on over to Tamara's blog by clicking the link below!
Happy Hopping!